A split end develops when the hair's cuticle layer is severely weathered or missing, causing the exposed shaft to fray like a piece of yarn. Wind can cause hair to tangle and make it hard to comb, which can eventually lead to split ends. Give your hair a dose of protection and intense moisture, by using conditioner daily. Regular trims help, too.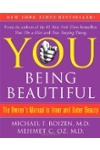 The only way to get rid of split ends is to cut them off, so step one: Schedule regular trims. The experts recommend every six weeks. That alone will make your hair look infinitely healthier.
After that, minimize heat styling as best you can, and work deep conditioning hair masks into the rotation. Brush and comb delicately. Wet strands are more prone to breakage, so use a wide-tooth comb and gently work out the tangles out from the ends up. Tight ponytails in the same place every day can stretch the hair until strands snap. Let your hair down now and again, and never rip the bands out. Gently unwind, ok?
Continue Learning about Maintaining Healthy Hair