Make sure that you are getting sufficient magnesium to counterbalance supplemental and food intake of calcium. Seek a magnesium citrate supplement, which will absorb better than magnesium oxide. Magnesium creates the calm -- whether it's mental or physical; it turns off our stress response, allows our muscles to relax (which means all muscles: especially our digestive tract muscles), and is critical for strong bones along with its partner calcium.

Magnesium is responsible for more than 300 metabolic reactions in our body, and it's thought that over 50 percent of the U.S. population is deficient in magnesium. Our current decline in adequate magnesium is partly due to a combination of food processing (white flour has 60 to 80 percent less magnesium than whole-wheat grain), an avoidance of magnesium-rich carbs in general, and a decrease of this mineral in our soils due to chemical-farming versus organic.

Magnesium-rich foods include whole grains, artichoke, beans, nuts and seeds, dark leafy greens, and even some chocolate. It's practically pointless to get plenty of calcium if you're not getting your magnesium as well, because it works in tandem with calcium.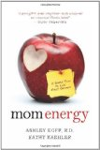 More About this Book
Mom Energy: A Simple Plan to Live Fully Charged
       From celebrated dietitian Ashley Koff and fitness trainer to the stars Kathy Kaehler comes Mom Energy, an exciting new way for moms to tap into their own natural and renewable sources of...
Magnesium is involved in more than three hundred biochemical reactions in the body essential for healthy bones, muscle function, normal blood pressure, proper heart rhythm, and many other critical functions. It's also necessary for proper insulin function. The recommended level for men is 420 mg per day; for women, 320 mg.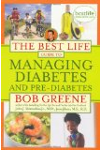 Magnesium is responsible for hundreds of biochemical reactions, among them the contraction and relaxation of muscle and blood vessels, the synthesis of protein and DNA, and the production and transport of energy from carbohydrates, fats and proteins. About two-thirds of all adults fall short on magnesium. Reports from the Paris Prospective Study 2 indicate that high blood levels of magnesium are linked to a 40 percent lower risk of death from any cause.

Heart Health
Researchers at the Medical University of South Carolina found that levels of C-reactive protein (a marker for heart disease) were three times higher among those with low magnesium intakes. Magnesium also helps maintain normal blood pressure levels by supporting the proper dilation of blood vessels.

Cancer Prevention
Given magnesium's role in regulating cell growth, some researchers believe the mineral may have a chemo-protective effect. In fact, in the Paris Prospective Study 2, French researchers tracked more than 4,000 men for nearly two decades and found a 50 percent reduced risk of death by cancer among those with the highest magnesium levels. And consumption of magnesium-rich foods cut the number of colon tumors by 34 percent in a Swedish study.

Diabetes Prevention
Harvard Medical School researchers used data from the Women's Health Study, which tracked more than 39,000 women -- age 45 and older -- over an average period of six years, and found that the risk of developing diabetes was 11 percent lower among those with the highest magnesium intake. (Other large studies have placed the protective benefit of magnesium at more than double that rate.) But administering megadoses isn't necessary to achieve healthy levels: The researchers also found that overweight women who had only adequate magnesium levels reduced their diabetes risk by more than 20 percent compared with overweight women with low magnesium levels.

Brain Health
About half of all migraine sufferers have low magnesium levels. Research suggests that increased magnesium intake during an attack can yield dramatic and sustained relief.

Reduced Gallstone Risk
Simply meeting daily magnesium needs can slash men's gallstone risk by a third. Men who consumed adequate magnesium from diet alone enjoyed a 32 percent lower risk of developing gallstones than those in the bottom fifth of magnesium intake. Researchers speculate that magnesium deficiency may cause problems with triglyceride and cholesterol levels, which in turn may raise gallstone risk.
Magnesium is an extremely important mineral. Next to potassium, it is the most predominant mineral in our cells. Magnesium also functions very closely with calcium and phosphorus. Approximately 60 percent of the magnesium in the body occurs in bone, 26 percent in muscle, and the remainder in soft tissue and body fluids. The functions of magnesium center on its ability to activate many enzymes.

Like potassium, magnesium is also involved in maintaining the electrical charge of cells, particularly in muscles and nerves. In addition, magnesium is involved in many cellular functions, such as energy production, protein formation, and cellular replication.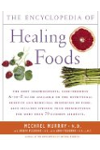 More About this Book
Encyclopedia of Healing Foods
From the bestselling authors of The Encyclopedia of Natural Medicine, the most comprehensive and practical guide available to the nutritional benefits and medicinal properties of virtually everything...
Continue Learning about Magnesium