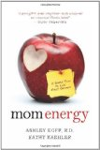 Make sure that you are getting sufficient magnesium to counterbalance supplemental and food intake of calcium. Seek a magnesium citrate supplement, which will absorb better than magnesium oxide. Magnesium creates the calm -- whether it's mental or physical; it turns off our stress response, allows our muscles to relax (which means all muscles: especially our digestive tract muscles), and is critical for strong bones along with its partner calcium.

Magnesium is responsible for more than 300 metabolic reactions in our body, and it's thought that over 50 percent of the U.S. population is deficient in magnesium. Our current decline in adequate magnesium is partly due to a combination of food processing (white flour has 60 to 80 percent less magnesium than whole-wheat grain), an avoidance of magnesium-rich carbs in general, and a decrease of this mineral in our soils due to chemical-farming versus organic.

Magnesium-rich foods include whole grains, artichoke, beans, nuts and seeds, dark leafy greens, and even some chocolate. It's practically pointless to get plenty of calcium if you're not getting your magnesium as well, because it works in tandem with calcium.