Low levels of magnesium in our diet and our bodies increase our susceptibility to a variety of diseases, including heart disease, high blood pressure, kidney stones, cancer, insomnia, PMS, and menstrual cramps.

The role of magnesium in preventing heart disease and kidney stones is most widely accepted. Individuals who die suddenly of heart attacks have been shown to have very low levels of magnesium in their bodies. Magnesium is extremely important to the heart, in terms of both energy production and heart muscle contraction. A magnesium deficiency may cause a heart attack by producing a spasm of the coronary arteries, thereby reducing the flow of blood and oxygen to the heart. Magnesium also increases the solubility of calcium in the urine, thereby preventing stone formation. Supplementing magnesium in the diet helps prevent the recurrence of kidney stones.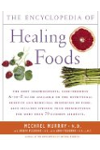 More About this Book
Encyclopedia of Healing Foods
From the bestselling authors of The Encyclopedia of Natural Medicine, the most comprehensive and practical guide available to the nutritional benefits and medicinal properties of virtually everything...
Continue Learning about Magnesium