A bone-building nutrient that about 56% of Americans lack is magnesium. It also maintains blood circulation, supports cardiovascular health, and helps your muscles and nerves relax.

Magnesium sources: Nuts, Swiss chard, dark leafy greens, sunflower seeds, dark chocolate, squash, pumpkin, cucumbers, black beans, navy beans, cereals, and bran.
Magnesium plays a key role in hundreds of cellular processes, from metabolizing food into energy and absorbing calcium to maintaining a strong immune system and keeping your heart, muscles, and nerves functioning properly.
Magnesium relaxes muscles and is anti-inflammatory. This mineral also has a laxative effective, so it can help relieve constipation. Magnesium has also been found to have a protective effect against stress. Take 200 to 300 milligrams per day of the mineral magnesium (unless you have kidney problems or you're prone to diarrhea).
The following are health benefits of magnesium:
Needed for many chemical reactions in the body
Works with calcium in muscle contraction, blood clotting, and regulation of blood pressure; may help protect against heart disease
Helps build bones and teeth
Magnesium is a mineral essential for energy metabolism. Muscle contractions, nerve impulses, and even the most basic processes of cellular energy storage require magnesium. A ten-year study on four hundred individuals at high risk of coronary disease found that those who ate a magnesium-rich diet had fewer than half as many complications from cardiovascular-related problems as those who ate only about one third of the recommended amount of magnesium. Overall mortality rates for people who ate a magnesium-rich diet were lower as well. Although this ten-year investigation is the first in-depth study on magnesium, the results have been buttressed by several smaller studies. That means that eating a magnesium-rich diet makes your RealAge (physiologic age) as much 0.9 years younger.

It has been known for some time that heart attacks are less common in areas where the water supplies are rich in magnesium. Magnesium is also known to lower blood pressure, dilate the arteries, and, when given after a heart attack, restore normal heart rhythms. Magnesium is especially important in the regulation of calcium. Because we do know that taking calcium helps reduce RealAge (physiologic age), it is also vital to get enough magnesium to allow for the proper absorption of calcium.
Magnesium is essential for helping regulate metabolism, and it helps lower blood pressure and dilate arteries. Eating a magnesium-rich diet-400 milligrams for women, 333 for men-can make you nearly one year younger.

Magnesium is usually found in whole grain breads and cereals, while soybeans and lima beans contain 100 milligrams per serving and most cuts contain 100 to 300 milligrams per serving. Avocados, beets, raisins, and dates also contain magnesium.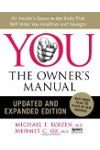 Continue Learning about Magnesium