It depends on how long the tick has been there. My family often spends vacations in "high-Lyme" areas (where the ticks that transmit Lyme disease are known to live), so I'm just as worried as many parents are about this bacterial disease, which can cause a rash, fever, joint pain, heart ailments, and nervous system damage (to humans and pets, too). However, some parents are terrified by Lyme disease. Finding a little, black, bloodsucking hitchhiker on their child's ankle that just might be an Ixodes dammini (otherwise known as a deer tick) triggers a panic attack.
Here's some relief: A tick can transmit Lyme disease only if it's been on a human for at least twenty-four hours or more. If you are certain that the tick hasn't been on your child that long, you're in the clear. When you're not sure how long the tick has been attached, I may prescribe a course of antibiotics.
Some parents ask if their child should have a Lyme blood test right away. Unfortunately, the common test looks for antibodies to the Lyme bacteria—but they may not show up for several weeks after the tick bite. That's why when no treatment is prescribed, many doctors recommend a blood test about one month after the tick was discovered, just to be sure. Another option is to test the tick. If you saved the tick, it can be sent to a lab to be tested for the Lyme bacteria.
From The Smart Parent's Guide: Getting Your Kids Through Checkups, Illnesses, and Accidents by Jennifer Trachtenberg.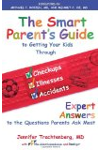 Continue Learning about Lyme Disease