Lupus is a connective tissue disease of autoimmune origin that can affect many different systems in the body. Studies have shown that there is no significant association between lupus and thyroid disease; however, people with lupus are more prone to have subclinical hypothyroidism and thyroid antibodies in their bodies. Subclinical hypothyroidism can only be detected on lab values, and patients may not notice signs of hypothyroid.

The thyroid is the gland in your neck associated with your metabolism, which are the processes that help your body use energy. Lupus, which causes your immune system to attack its own tissues, can affect your thyroid. A thyroid gland that does not function properly can affect your brain, heart, kidneys, liver, and skin.
About six percent of people with lupus also suffer from hypothyroidism, which is an underactive thyroid. Hypothyroidism can cause weight gain, fatigue, depression, moodiness, and dry hair and skin. About one percent of people with lupus also suffer from hyperthyroidism, which is an overactive thyroid.
Hyperthyroidism can cause weight loss, heart palpitations, tremors, heat intolerance, and eventually lead to osteoporosis.
Treatment for both underactive and overactive thyroid involves getting your body's metabolism back to the normal rate. Generally, thyroid hormone replacement therapy is the treatment for hypothyroidism. Anti-thyroid medications or radioactive iodine can treat hyperthyroidism.
Continue Learning about Lupus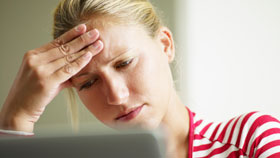 Lupus is a chronic inflammatory disease, which occurs when your body's immune system attacks your own organs and tissues. Lupus is more common in women, blacks, Hispanics and Asians and often is diagnosed between the ages of 15 an...
d 40. Learn more about Lupus from our experts.
More