Asthma is a long-term, chronic condition, whereas bronchitis is an isolated incident occurring in response to acute infection and will most likely resolve on it's own. Watch pulmonologist Brian Gelbman, MD, explain the difference in these conditions.
Bronchitis, a term that refers to inflammation in the bronchi or larger airways of the lungs, may be due to infection or other immune processes in the lungs, not asthma. While the symptoms of bronchitis may overlap with those of asthma, bronchitis does not typically cause the airway obstruction that is the characteristic of asthma. An asthmatic cough is usually productive, that is, sputum is brought up, whereas a bronchial cough is nonproductive, with no sputum.

The confusion between bronchitis and asthma is fertile ground for misunderstanding and imprecise language. For example, "bronchial asthma" is actually a redundant term since the bronchi are always involved in asthma.

Some doctors refer to "asthmatic bronchitis" or "reactive airway disease" when a patient is having trouble breathing and perhaps wheezing, but they are not sure if the patient is suffering from an ongoing condition. This is often the case with infants and small children who start to wheeze when suffering from viral infections such as respiratory syncytial virus. Many may wheeze just once when they've had a viral respiratory infection, or occasionally over a period of one or two years. Some, however, do go on to develop classic asthma.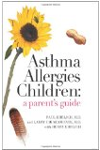 More About this Book
Asthma Allergies Children: A Parent's Guide
Asthma and allergies are at epidemic proportions. It doesn't have to be that way. Two experienced pediatric allergists tell everything a conscientious parent needs to know about these conditions,...
Continue Learning about Lung Disease and Respiratory System

Diseases, pollutants and genetics can affect your respiratory health. The simple cold - which is caused by more than 200 different viruses - inflames the upper respiratory tract, resulting in a cough, runny nose and sneezing. A mo...
re severe cough combined with mucus is a sign of bronchitis, where the membranes lining the bronchial tubes become inflamed. The inflammatory lung disease asthma affects more than 20 million people, making airways constrict when exposed to irritants like dust, pet dander and cigarette smoke. Pneumonia, another inflammation of the lungs, can occur because of a bacterial or viral infection. People suffering from cystic fibrosis, an inherited lung disease, frequently battle bacterial infections and airways clogged with thick and sticky mucus.
More