The theory goes like this. At the end of a long career awaits the ultimate stress reduction plan: retirement. Sure, there's some appeal to sleeping in, taking aquatic therapy classes, and becoming the over-65 county shuffleboard champion. But retirement may not be the mental hammock that everyone expects it to be.

Take three parts of the world where people have a greater chance of living to one hundred: Sardinia, Okinawa, and Costa Rica. In each of those areas, people have found ways to cope with stress. The communities have strong traditions of walking, building family strength, playing with kids, and being active. Plus, there's no such thing as retirement.

Now, I'm not recommending that you subject yourself to the same corporate punishment that's graying your hair and beating you down. But I am recommending that even in retirement, you find a way to continue working—either as a volunteer or for pay—at something you enjoy. It'll help you stay active physically and mentally, give you a life-enhancing sense of purpose, and help you maintain the strong social ties that are so necessary for stress management.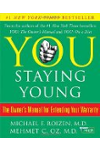 Continue Learning about Longevity