Thousands of Americans are younger today than they were five years ago. How is that possible? They have joined the RealAge (physiologic age) Revolution. They have given themselves a makeover from the inside out. By following the specific age-reversing recommendations in my book RealAge: Are You as Young as You Can Be?, people who were previously much older physiologically than their chronologic age have now taken ten, fifteen, up to forty years off their biologic age. (Men can be twenty-five years younger and women, twenty-nine years younger than their calendar age.) This is what we call giving yourself a RealAge Makeover: You can significantly transform your health, looks, and life.

And it can be so easy. For example, just developing a habit such as using your cell phone to call friends in time of stress can actually make a real difference in your health and longevity. As word about the RealAge concept spread, and Americans started to see firsthand how small but simple -- and sometimes fun! -- changes in their daily lives could transform their health, so many people have joined the RealAge bandwagon that's it's become a kind of revolution -- a revolution back to great health. And nobody has been more thrilled to see it happen than me.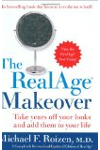 Continue Learning about Longevity

If you think the Fountain of Youth can be found inside a jar, you may want to think again. Longevity wellness isn't about appearing younger; it's about protecting your health. Consider increasing your life expectancy from the insi...
de out with things like adding more nuts to your diet, getting better quality sleep and nurturing your healthy relationships. Everything you do can be a step towards a longer life – just make sure they're the right ones.
More