Keeping your blood pressure at 115/76 mm Hg or less makes you 9 years younger than if your blood pressure were 130/86. It also makes you over 25 years younger than someone with blood pressure of 160/90 or more. Reducing your blood pressure from 130/86 to 115/76 makes you 4.5 years younger in 6 months, and 9 years younger in 3 years, provided you reduce your blood pressure before any permanent structural damage occurs in the arteries. Blood pressure of 120-130/80-85 mm Hg is considered normal but not ideal.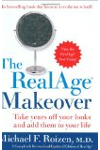 Continue Learning about Longevity

If you think the Fountain of Youth can be found inside a jar, you may want to think again. Longevity wellness isn't about appearing younger; it's about protecting your health. Consider increasing your life expectancy from the insi...
de out with things like adding more nuts to your diet, getting better quality sleep and nurturing your healthy relationships. Everything you do can be a step towards a longer life – just make sure they're the right ones.
More