Humans can't live reasonably by cutting 30 or 40 percent of their calorie intake like a laboratory rat put on a calorie-restricted diet, because all they would think about is food. Fortunately, just cutting back by 15 percent gets you almost as much of an anti-aging benefit as going on a more severe calorie-restricted diet. This is why you can incorporate this approach instead of the tougher 25 percent reduction that is often used by calorie restriction zealots.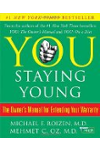 Continue Learning about Longevity

If you think the Fountain of Youth can be found inside a jar, you may want to think again. Longevity wellness isn't about appearing younger; it's about protecting your health. Consider increasing your life expectancy from the insi...
de out with things like adding more nuts to your diet, getting better quality sleep and nurturing your healthy relationships. Everything you do can be a step towards a longer life – just make sure they're the right ones.
More