If you have Parkinson's disease, these utensils and gadgets can make preparing food easier:
Use a rocker knife instead of a traditional straight knife. You can get a seesaw motion going with the rocker knife and use less energy than that required with a straight knife.
Keep an extra pair of pliers in the kitchen. Use them to peel away the plastic seal from a jar of peanut butter, to pull the tab on a container of cream cheese, or to grab the sealer strip from a can of frozen orange juice or a gallon of milk.
To get an easier grip on cooking tools, replace old kitchen gadgets and utensils with modern gadgets that have large, cushioned handle grips. Many discount, housewares, and grocery stores carry a wide selection of potato peelers, spatulas, whisks, and more. OXO International offers a complete selection of specialty and hard-to-find cooking utensils (cookie scoop, spice grinders) and other easy-grip products and tools for your home and garden.
Angled measuring cups let you read measurement markings by looking straight down into the cup, eliminating the need to tip your head to check the amount of liquid you are measuring. The soft, nonslip handle provides a firm grip; cup, ounce, and milliliter measurement markings increase convenience. Available in 1-, 2-, and 4-cup versions, the measuring cups are dishwasher safe. You will find them at discount and department stores.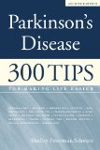 Continue Learning about Living With Parkinson's Disease