If you have Parkinson's disease, some of the easiest changes you can make include the following:
Arrange furniture so that there are clear walking paths throughout the house. Remove barriers such as magazine racks or footstools.
Place furniture in strategic locations in case you need to touch or hold onto it as you walk. Remove casters or wheels from furniture—objects that roll are an unstable means of support.
Remove throw rugs, which may cause trips and falls.
Increase lighting by using the highest wattage light bulbs recommended. Purchase a gooseneck lamp that allows you to adjust the lamp and shine the light in any direction.
Replace glass shower doors with a lightweight shower curtain for easier access to the shower, greater safety, and convenience.
Store daily-use products like towels, dishes, food, spices, medications, and cleaning supplies between waist and eye level; this will help you to avoid reaching and bending, which can throw you off balance and lead to falls.
Use reachers to relieve the strain of bending, stooping, or stretching. Many different types of reachers are available; some models have pistol grips, others work like a giant pair of tongs, and some fold compactly to take with you.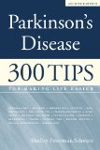 Continue Learning about Living With Parkinson's Disease