If you have Parkinson's disease, try following these clothing tips:
Replace clothes that are hard to put on with easy-on/easy-off clothing. You may want to buy clothing one size larger than you normally wear.
Choose satin or nylon tricot sleepwear. Turning over in bed will be easier because of the slippery surface of satin.
Choose underwear made of nylon instead of cotton. You will have an easier time pulling slacks and trousers up and down.
Choose clothing that closes in the front if you dress yourself. If your arms are stiff, and you need help dressing, purchase or make shirts that open in the back but look like front-opening shirts.
Choose shirts with multiple colors and patterns. If you tend to spill when eating, most spills won't show up.
Choose clothing with elastic waistbands or Velcro closures instead of zippers or buttons. Sweatpants that are made of double-knit fabric and have elasticized waistbands generally are easier to put on and take off. Wear pullover tops to eliminate fastening.
Choose a roomy, easy-to-put-on robe with large pouch pockets to store tissues, glasses, reading material, even a change of clothing.
Purchase swimsuits that wrap around the body and are extremely easy to put on and take off.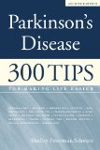 Continue Learning about Living With Parkinson's Disease