Life is about choices. You may not have total control over your Parkinson's disease, but you do have control over how you let it affect your life. Staying active and involved is possible with effort and determination. These tips can help:
Keep moving. Eliminate distractions, and tell your family and friends that you may not be able to carry on a conversation while you are walking. If crowds or long-distance walking is involved, use a cane or walker for stability. Pushing a baby stroller or shopping cart may help you maintain balance. Using a wheelchair may be a good option, especially at museums, sidewalk art shows, and amusement parks. Choose to make the necessary compromises and adjustments, so that you can stay involved in family and community activities.
Continue doing the quiet leisure activities you enjoy. If the effects of Parkinson's disease or your medications make your favorite hobby difficult to pursue, try a variation on your hobby or learn a new craft.
Keep your mind and your hands active by doing jigsaw puzzles, taking up painting or woodworking, or playing a musical instrument. Take a class, so that you can learn along with others and meet new people who share your interests. You'll socialize and learn something at the same time.
If you have a skill that you haven't used in a while, pick up a beginner's book at the library and refresh your memory with introductory lessons. You'll be surprised at how quickly you can relearn a skill you thought you'd forgotten. Don't be hard on yourself if it takes you a while to master a new craft. Everybody has a learning curve; don't let initial frustrations discourage you from keeping at it.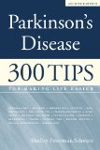 Continue Learning about Living With Parkinson's Disease