If you have Parkinson's disease, these tips can help make pill taking easier:
Keep a list of your daily medications taped to the refrigerator, microwave, or medicine cabinet. List the time of day, name of the drug, and dose. Check off each dose as you take it.
Use a weekly pill organizer with morning, noon, evening, and bedtime slots for each day. At the beginning of each week, fill the organizer with your medications. You can also use a clean egg carton to organize your pills.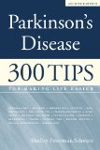 Continue Learning about Living With Parkinson's Disease