If your loved one gets confused and wanders into dangerous places, placing a stop sign or photographic mural on tempting doorways may help keep them safe. A large red stop sign (10.25 inches square) sends an understandable message not to exit through a doorway or enter "off-limit" rooms. The sign mounts directly to the door with Velcro strips (included); it wipes clean with soap and water.

A photographic mural that looks like a set of bookshelves camouflages doorways to stairs and storage closets, effectively making them "disappear." The 3-foot 2-inch by 8-foot 8-inch mural comes in two pieces for easy installation using double-faced tape (included).

Please note: These items are no substitute for locks on doors leading to dangerous areas.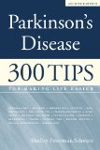 Continue Learning about Living With Parkinson's Disease