Replace traditional light switches with rocker-panel switches that require less fine motor control; they can be turned on or off by pressing with an arm, elbow, or palm of the hand. Some rocker panel switches are available with built-in illumination, so that you don't have to grope in a dark room to locate the switch. These are available at hardware and home-building supply stores.

Purchase touch-sensitive lamps if manipulating the small turn-screw on most lamps is difficult. Touch any metal on the lamp base and the light goes on; touch it a second time and the light goes off. If you use a three-way bulb, the light gets brighter with each successive touch, until the fourth touch turns it off. You can easily transform a traditional lamp into a touch-sensitive one by purchasing a converter kit. The converter screws into the receptor where the bulb normally goes; after you install a bulb, the lamp lights up when you touch it. Look for these at hardware and home stores.

Use a TV remote to turn lights on and off. Screw a Zapper Adapter into any light bulb socket and turn your light on and off with any regular, infrared remote control device. Install an adapter in one lamp in each room, carry the remote with you, and you will never be in the dark searching for the light switch again. The adapter has a 20-foot range with a lamp shade, 50-foot without, and will not interfere with the normal operation of the lamp. Maximum recommended wattage: 100 watts. Look for the Zapper Adapter at hardware, discount, or numerous online stores.

Install motion-detector light switches in the basement, garage, and utility room. Motion-detector switches are especially useful in areas where you often find your arms full (with laundry, groceries, etc.). The light turns on when you enter the room and turns off a few minutes after you leave. You might also consider using photosensitive night-lights that automatically turn on at dusk.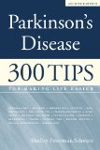 Continue Learning about Living With Parkinson's Disease