If you have Parkinson's disease, these tips can help make dressing and undressing easier:
Always dress a weaker limb or your stiffer side first.
To undress, take the garment off the stronger side first.
To remove a shirt or blouse, unbutton the garment and ease it off your shoulders. Reach behind your back and gently tug the garment off.
Dress in front of a mirror. It will help you find the sleeves and match up buttons and buttonholes. Button garments from the bottom up, so that you're less likely to skip a button. Or, button the bottom few buttons and put the garment on over your head.
If you're wearing layers, such as a turtleneck underneath a sweater, put the turtleneck inside the sweater before dressing (don't forget to pull the sleeves through) so that you will only have to expend the effort of putting the garments on one time.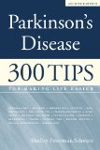 Continue Learning about Living With Parkinson's Disease