Here are some tips to make doctors' appointments easier if you have Parkinson's disease:
Mornings and right after the lunch hour are often the best times for scheduling a doctor's appointment. At those times, appointments are more likely to be running closer to schedule. Also, consider the time of day when you are most energetic or when your medication leaves you at your peak.
If you are anxious to see the doctor soon, tell the receptionist. Ask if there is an early opening due to a cancellation; if not, ask to be notified if someone does cancel. Ask to be put on the "short list." Call back in a few days, if you have not heard from the receptionist.
If you have a lot to talk about with your doctor, make a consultation appointment so that the doctor will allow enough time to meet with you without being hurried. Give the receptionist the option of lengthening your appointment or scheduling a second appointment slot for you. You should be willing to pay for this extra time.
Be clear about what you want to say to the doctor, and try not to introduce extraneous information into your description of symptoms or other concerns. Write down your points in advance. It can be helpful to prepare a brief but accurate progress report, answering such questions as: How closely have you been following your treatment plan? How have you been feeling? How many hours a day do you feel "on" and "off?" Have you had any specific problems? What has been happening in your life? It may be helpful to have a family member or helper contribute to your progress report, recording their perceptions of your "on" and "off" times. Having more than one perspective often can give the physician a clearer picture. Remember, your doctor sees you only for a short amount of time; to adequately manage your Parkinson's disease, he needs to know how things have gone at home since your last appointment.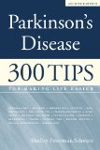 Continue Learning about Living With Parkinson's Disease