If you have Parkinson's disease and you tend to shuffle when you walk, follow these steps:
Stop walking.
Make sure your feet are about 8 inches apart.
Stand up as straight as you can.
Think about taking a large step.
Take a step by bringing one foot up high, as if you are marching.
Lift your toes up and place your heel down first.
Roll onto the ball of your foot and toes.
Repeat this process with the other foot.
Swing your opposite arm forward when taking a step. This will improve the rhythm of your walking and your appearance. Swinging your arms freely while walking shifts body weight from your legs, lessens fatigue, and helps loosen your arms and shoulders.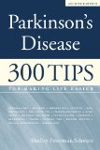 Continue Learning about Living With Parkinson's Disease