Here are some tips on making your bed more accessible if you have Parkinson's disease:
If you have Parkinson's disease, your bed should be low enough for you to get in and out easily. A good guideline is for the bed to be 22 inches high, but take your height into account. In general, if the bed is lower than knee height (like a futon), getting in and out will be difficult. If your bed is too low, set its legs on recessed wooden risers (blocks with holes cut into them to accommodate the bed legs). If your bed is too high, consult a carpenter to get the legs of the bed shortened.
Consider repositioning your bed against the wall to make it more accessible. Install a grab bar on the wall alongside the bed, about 10 inches higher than the mattress. Be sure to anchor the railing to studs in the wall so that it will be secure. Another option is half bed rails that can be installed under the mattress. Installing such rails might eliminate the need for an expensive hospital bed with bed railings.
Attach a bed pull to the grab bar or to the frame at the foot of your bed to assist in turning over and getting out of bed. Use a nylon rope, or braid three pieces of tightly woven fabric together, in a length that will reach from the base of the bed to your hand when lying down. It should be long enough for you to reach, but still at arm's length for good leverage when you want to pull yourself out of bed. Tie a large wooden ring to the end to serve as a handhold. Then sew a binder clip (butterfly clip) near the ring, so that the bed pull can be clamped to the bedding and remain within your reach. You may want to attach another bed pull to the side of the bed to assist you in turning.
Use satin bed sheets. Their slippery surface makes it easier to turn over in bed. Flannel sheets make it more difficult to turn over than standard cotton or percale sheets.
Consider installing a trapeze or harness that hangs over the bed, so that you can grab hold of it to lift and turn yourself.
Place a long, sturdy cardboard box under the covers at the foot of the bed. Elevating the covers will keep pressure off your feet and legs and allow you to turn without getting tangled up in the bedding.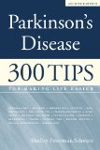 Continue Learning about Living With Parkinson's Disease