Caring for someone with Parkinson's disease will vary depending on the stage of the condition. In the early stages, symptoms may be minor and little care will be needed. But with time, the person you're caring for may lose mobility, control over their muscle, and some speech. You should monitor that their doctor's treatment plan is being followed. You may also need to help them with day-to-day activities such as eating or moving around the house. Parkinson's disease can take a toll on both the patient and caregiver. Sometimes seeking out the help of a support group or trusted ally can help you ease the burden.
If someone in your life has Parkinson's disease, here are some ways that you can help him or her:
Go with the flow. Periodically, the person with Parkinson's disease may experience hallucinations or delusions. It may be helpful to say, "I'm sure you really see the (little girl), but it's really the medication (or the Parkinson's disease) that's causing you to see (her). I'll call the doctor and see how we can make (her) disappear." Then redirect the person and say something like, "Let's get a glass of ice tea. Come and help me." Or explain that you're talking about what to get Mary for her birthday and ask, "What do you think she'd like?"
Be encouraging. Whether it's getting the person with Parkinson's disease to exercise, eat, dress, or do any other activity, have a positive, patient, and encouraging attitude. Allow the person with Parkinson's disease to do as much for herself as possible. Squelch the tendency to jump up and do a task because you can do it faster and more easily than the person with Parkinson's disease. Encourage her to eat as much as possible independently before offering your assistance.
Expect the person with Parkinson's disease to participate in daily activities as much as he can. Such activities such as setting the table, folding laundry, and putting groceries away keep one active and involved in everyday living.
Give verbal cues when necessary. "Walk with me to the bedroom." Talk the person with Parkinson's disease through activities, like dressing and bathing. "Let's put on your shirt. Help me button your shirt. Let's tuck in your shirt and button your pants." Be patient and encouraging to minimize the stress of the situation.
Encourage the person with Parkinson's disease to attend a support group meeting. If that's not possible, try to arrange a one-on-one get together with another person with Parkinson's disease. If speech problems are not a factor, these "meetings" can be over the phone. Take care of yourself, too, and consider finding a caregivers' support group.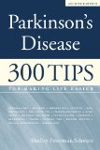 Continue Learning about Living With Parkinson's Disease