Pain causes a lot of anxiety and worry, which can impact the quality of your sleep. Watch sleep expert Michael Breus, PhD, discuss how cognitive behavioral therapy can be an effective treatment for this type of anxiety issue that can affect sleep.
If you can't sleep, you're not alone—pain is the number one leading cause of insomnia. Whether from difficulty getting to sleep or problems maintaining sleep, 65 percent of those individuals who suffer from pain claim they "never" get quality sleep. In fact, about 42 million people in the United States report that pain or physical discomfort disrupts their sleep a few nights a week or more. We know that people who have pain experience less deep sleep, more arousals and disruptions with waking as well as less efficient sleep.
Most patients with fibromyalgia, a painful arthritis-like syndrome that causes deep muscle aches, fatigue, anxiety, and depression, have difficulty sleeping and feel unrefreshed in the morning. Research shows that many individuals with fibromyalgia have symptoms suggestive of pathologic sleep disturbances like obstructive sleep apnea (brief periods of cessation of breathing) and restless legs syndrome.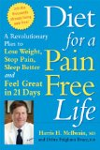 Continue Learning about Living With Pain