We have found five key elements to a successful multiple sclerosis (MS) marriage:
These couples face facts early in the game. They find out what is likely to happen, accept it, and make plans to deal with it, thus taking the fear of the unknown out of the marriage.
They get help from family, neighbors, friends, and health care workers when needed to weather fatigue, attacks, or disability.
The person with MS turns the medical problems over to the doctor, not the spouse. It can be very wearing to hear medical complaints day after day. There is nothing the partner can do but feel guilty, sorrowful, and helpless. Information can, of course, be shared, but those who are selective maintain stronger relationships.
They learn to take the MS out of the relationship. They go out at night, visit friends, and take trips and romantic vacations. They find ways to do each and every activity together in spite of MS.
Finally, the couples with the greatest success never let the sexual side of the marriage deteriorate. They realize there are many reasons why sexual activity may decline over the years. If things have become stale, they use creativity and imagination to bring romance back into the relationship. They analyze the variety of reasons why one partner may have lost interest - emotional depression, financial burdens, midlife personality change, and more. Or they find out if the partner who has lost interest has a legitimate gripe. Has the mate become less appealing in dress, appearance, or use of language or behavior? There are many reasons for the decline of sexual activity in a marriage. Do not assume it's MS. Of course, a small percentage of people develop sexual dysfunction in MS. In all such cases, however, something can be done.
Ultimately, if you decide you need a marriage counselor, examine your marriage before MS, look at the problems you have now, and discuss MS, but do not focus on it as the root of all your trouble.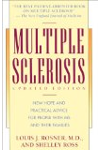 More About this Book
Multiple Sclerosis
Too often, multiple sclerosis is thought of only as "the crippler of young adults." But in fact, 75 percent of all people with MS will never need a wheelchair. In Multiple Sclerosis, Dr. Louis J....
Continue Learning about Living With Multiple Sclerosis