What are some ways to make my life easier if I have multiple sclerosis?
Here are some tips to help you live better with multiple sclerosis (MS) from day to day:
Getting lots of sleep is vital for people with MS, as sleeping is critical for brain health. If you are having issues with sleep, talk with your doctor; a number of solutions are available.
Your limits may change from day to day, so each day assess what your limits are. This is probably the hardest thing to do.
Stick to your limits. Not many people are good at this and they try to push themselves to do what they used to do. You may find that you don't have the energy you once had. MS is incredibly frustrating like that.
There will be things that you can do and other things that you cannot do. Try not to feel overwhelmed. Break each individual task down and do each when you can.
Your body will display certain signs when you have overdone it or are approaching your limit. You may get very angry, very quickly. You may also get vague or dizzy, and your legs may feel like they are wrapped in concrete. On the other hand, your signs may be completely different.
Exercise. This isn't about extremes, it's about soft, simple and manageable exercise. It might only be a five­minute walk on the first day, but slow and gradual increases coupled with rests are hugely beneficial. Something as simple as 10 minutes of gardening can make a huge difference.
There may be times during the day when you need to turn your brain off and just sit still for a few minutes. Find the time and do it.
You may have a "witching" hour, during which you feel simply terrible each day. Try to avoid scheduling anything too mentally taxing during that period. Also, try to lie down for 10 minutes when you get home from work. Learn when you feel the most tired and work with it.
On the days you get really frustrated because you cannot do everything you want to do, remind yourself that your health is most important. When you are struggling with something, ask yourself, "Is it really important?"
Reward yourself. If you have set a goal and achieved it, be proud of that accomplishment and reward yourself. No one else will ever truly know how much of a struggle it may have been for you.
It is critical that you let those close to you know what is going on. They can help you in a way that no one else can.
Above all else, remember: It's not your fault you've got MS!
A few simple and inexpensive ways that I've found to make my life with multiple sclerosis (MS) easier are:
Rubber bands. I found it easier to grasp and turn a doorknob if we wound several rubber bands around the largest part of the doorknob. Rubber bands can add girth to handles on kitchen tools, hairbrushes and toothbrushes, and other household objects. Try adding rubber bands anywhere you need a little extra help gripping.
Thermo pellets. Thermo Pellets are heat-activated foam beads that may be formed into any shape to create custom grips on all kinds of items, making it easier and more comfortable to grasp and hold them in your hand. By warming the foam beads in hot water, on a heating plate, or in the microwave, the beads can be molded and remolded.
Power strips. I learned that I could turn all my computer equipment -- monitor, printer, and CPU -- on and off by pressing one switch if I plugged all of them into a six-outlet power strip. I put the power strip on top of my desk, within easy reach. You can put one within easy reach in other rooms and use it to plug in a lamp, radio, TV, stereo, fan, and other items. You can find power strips with safety features, such as circuit breakers or surge protectors, at hardware stores and discount stores.
Reachers. As their name suggests, reachers extend your reach or help you pick up or grasp objects. They come in various lengths, weights, and means of operation. Some have trigger grips, similar to a pistol's which are operated by squeezing your finger. Others have full-grasp handgrips that allow you to squeeze with all your fingers. I found one reacher with a locking mechanism that enables me to hold an object tightly without continuing to grasp the handle. Some reachers have magnets at the end for picking up metal objects. Others have rubber grippers or vinyl-covered tips for better holding power. Battery-operated reachers automatically open and close gripping jaws with a light push on a rocker switch. Some reachers fold in half for traveling or storage, and some come with a carrying attachment that clamps the reacher to a walker or wheelchair. Try out different kinds of reachers for different activities around the house; you will find they make your life so much easier.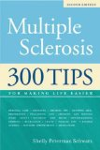 Continue Learning about Living With Multiple Sclerosis
Living with multiple sclerosis (MS) presents its own specific, but manageable set of challenges. Important keys to daily living with MS include finding or building a support group, self-monitoring your multiple sclerosis symptoms ...
and following your doctor's recommendations for managing MS pain. Find out more about living with multiple sclerosis from our experts.
More