Menstruation is generally not considered an aggravating factor in multiple sclerosis (MS). In general, weight will not affect multiple sclerosis (MS), although being too overweight may aggravate such symptoms as weak legs and bowel problems. It can also create serious health problems unrelated to MS, such as heart disease, diabetes, and high blood pressure. This can not only impair the quality of life but may complicate treatment of MS if medications conflict. Everyone should watch his or her weight and keep as fit as possible. For the wheelchair-bound, a reduction in daily calorie intake is important to compensate for the decrease in the amount of calories burned.
Being underweight also has its problems. It often signals a lack of good nutrition, which can lower immunity and make the person with MS more susceptible to flu and cold viruses.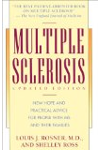 More About this Book
Multiple Sclerosis
Too often, multiple sclerosis is thought of only as "the crippler of young adults." But in fact, 75 percent of all people with MS will never need a wheelchair. In Multiple Sclerosis, Dr. Louis J....
Continue Learning about Living With Multiple Sclerosis

Living with multiple sclerosis (MS) presents its own specific, but manageable set of challenges. Important keys to daily living with MS include finding or building a support group, self-monitoring your multiple sclerosis symptoms ...
and following your doctor's recommendations for managing MS pain. Find out more about living with multiple sclerosis from our experts.
More