On either a temporary or permanent basis, weakness is very common. It usually affects one leg, but after many years may involve both. The patient occasionally experiences weakness in one or both hands. (As a symptom, weakness should be distinguished from lack of energy, or fatigue.)The most common weakness is when one leg feels heavy at the hip and the patient has difficulty lifting the leg later in the day, after too much standing or walking. It is especially evident while stepping up curbs and going up stairs. Less commonly, weakness occurs when the patient lifts the foot. This is evident with the tendency of the foot to drag when the leg is tired.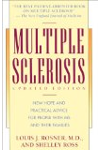 More About this Book
Multiple Sclerosis
Too often, multiple sclerosis is thought of only as "the crippler of young adults." But in fact, 75 percent of all people with MS will never need a wheelchair. In Multiple Sclerosis, Dr. Louis J....
Continue Learning about Living With Multiple Sclerosis