If you have multiple sclerosis (MS) and are planning to travel by car to an unfamiliar location:
Plot your route and mark it on the map with a highlighter pen.
It usually is easy to read highway maps. However, when you get to metropolitan areas, it may be nearly impossible to read the small print on street maps, especially in a moving car. To solve this problem, enlarge the street map a couple of times, either online or on a photocopying machine at your neighborhood library or copy shop.
Designate a navigator and a map reader. Fold the map into a 5x5-inch square, making your route visible, and put a paper clip on the "north" edge of the map; this will make it easier for the navigator to handle the map and keep the orientation correct. Some companies offer laminated maps that fold into usable sections very easily; you will find these maps in most bookstores and roadside travel centers.
Keep a magnifying glass with a light on it in the glove compartment of your car. This will come in handy when you need to consult a map.
When traveling on unfamiliar interstate highways, the highway and exit numbers and sign locations can help guide you.
For example:
To determine whether an exit off the highway would be to the right or to the left, watch the position of the small exit number panels on the tops of road signs. If the small panel is on the right side of the sign, it's a right-lane exit ramp. If it's on the left side, it's a left-lane exit ramp.
To make sure you are always traveling in the right direction, remember that odd-numbered roads go north and south, while even-numbered roads go east and west.
When you travel, take along your personal disabled windshield placard. Disabled parking permits are honored in most states; you may use the placard on a rental car or in a car in which you are a passenger. If you forget to bring your permit with you, your only option may be to visit the nearest Motor Vehicle Department office and request a temporary permit. Don't be surprised if they want to see a doctor's letter certifying your disability or medical condition.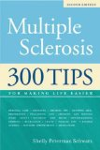 Continue Learning about Living With Multiple Sclerosis

Living with multiple sclerosis (MS) presents its own specific, but manageable set of challenges. Important keys to daily living with MS include finding or building a support group, self-monitoring your multiple sclerosis symptoms ...
and following your doctor's recommendations for managing MS pain. Find out more about living with multiple sclerosis from our experts.
More