If your multiple sclerosis (MS) progresses and you lose certain central nervous system functions, you are going to mourn those losses. But you cannot mourn forever. You must find your own way to readjust your life and reemerge. This is probably the greatest test of will and emotional strength you will ever face. While coping with the physical aspects of MS, you must have the presence of mind to make necessary adjustments in such areas as career, financial planning, and relationships - certainly a handful for anyone. Don't try to sort out everything at once.

Tackle one problem at a time. Seek the advice of experts. Talk to a financial planning expert, a career counselor, a marriage counselor, and anyone else who can help. Don't wait for a problem to arise - you must also think in terms of "preventive" emotional medicine.

Remember that there is never just one solution to a problem, and some problems have no great solutions at all. You should only try to find the best solution for your situation. For some, deep religious convictions will help the emotional healing process. For others, involvement in a research program will give renewed hope and optimism. Even without participating in a research program, the person with a progressive course can still feel optimistic. When a cure is ultimately discovered, there's a good chance it will benefit everyone. In August 2005, the National MS Society awarded four grants, totaling over $15 million, to study tissue repair and protection in MS. This work is moving toward reversing the damage caused by MS and restoring function to those who have had the disease for years. Recent scientific advances in many different fields, according to the NMSS, have come together to bring the dream of repairing brain tissue within our grasp. Awarded the largest single grants ever by the NMSS, four teams will be led by researchers from Johns Hopkins, University of Wisconsin, Cambridge University, and University College London and they will work with collaborators in Canada, Europe, and the United States.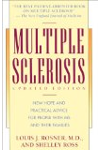 More About this Book
Multiple Sclerosis
Too often, multiple sclerosis is thought of only as "the crippler of young adults." But in fact, 75 percent of all people with MS will never need a wheelchair. In Multiple Sclerosis, Dr. Louis J....
Continue Learning about Living With Multiple Sclerosis