If you have multiple sclerosis (MS), here are some no-hassle ways to plan and prepare for your family trips and vacations.
Choosing a destination
The International Association of Convention and Visitor Bureaus has an online directory for travel destinations all over the world. Try calling the travel and tourist information bureau of the state you're planning to visit for information on accessibility for someone with multiple sclerosis (MS). Better yet, call the tourism office of the county or city of your destination to find accessible attractions and lodgings. Be persistent.
The Society for Accessible Travel and Hospitality and the Travelin' Talk Network are other valuable resources for travelers with special needs.
Booking a hotel room
Accessibility standards of hotels vary from state to state in the United States, but in general, newly constructed or recently remodeled buildings have the best facilities for disabled travelers with multiple sclerosis (MS). Older motels or hotels may not be accessible. Always ask about accommodations when making your reservations.
If you require a "handicapped" room, ask how you can ensure that the room will be held until you arrive. If walking stairs is a problem, request a room on a lower floor, near stairways and exits. Remember that elevators may not be used in a fire emergency.
If you're not sure where to stay, rely on travel agents to guide you in making your plans. There usually is no charge for their services.
Packing for your trip
Travel light. Purchase trial-size bottles and tubes of everything from shampoo and hair spray to toothpaste and mouthwash or purchase empty travel-size bottles that you can fill with your own toiletries. Purchase trial sizes of laundry detergent or fill travel bottles with your own supply of detergent and pack them in your suitcase. It's amazing how much lighter your suitcase will be.
Select the right bag. Soft, cushioned handles and shoulder straps made of neoprene gel make carrying luggage, briefcase, musical instruments, carts, etc., easier on the hand.
For comfort on the go, take a special pillow and/or robe from home, because it may help you sleep better.
Traveling with medications
Carry your prescription medications and other absolute necessities in your carry-on bag, so that if your checked luggage is lost or misplaced, you will still have what you need on hand. (Keeping a few days' worth of medication in your luggage as well will provide you with reserves if your carryon is lost or stolen.) You may want to carry a doctor's prescription in your wallet or have your prescriptions filled at a pharmacy that uses a computer network. Also take along your doctor's phone number in case of an emergency.
Leaving the house
Make lists before your trip of what you need to pack, what chores need to be done a few days before hand, and things to do immediately before you leave.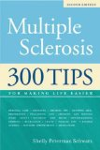 Continue Learning about Living With Multiple Sclerosis