If you have multiple sclerosis (MS), take advantage of the library's collection of large-print and audio books. The Large-Type Books in Print directory includes books and periodicals published in large print. This reference book is available at most major libraries.
The Book Clubs division of Doubleday & Company has a large-print home library. A wide range of full-length hardcover best-sellers, including fiction, mystery, romance, and how-to titles, are offered.
Find out if your local radio stations broadcast readings from novels. Public radio stations often have a program where a chapter is read from a current novel each day.
The Internet now offers books in electronic versions, including MP3 formats that can be downloaded and played back at your convenience.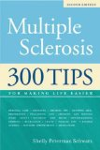 Continue Learning about Living With Multiple Sclerosis