Multiple sclerosis (MS) is going to have an impact on your marriage. When you exchanged vows to love and honor each other in sickness and in health, you probably thought that test would come in your sunset years. But it's here now and you have to cope with it.
MS in a marriage requires patience, understanding and a foundation of love and respect—qualities important to any marriage. You must also now sharpen your skills of communication and negotiation because your roles may have to change from time to time.
If your MS is in remission, there may be no problem to face but that of fatigue. Fatigue is a difficult symptom for another person to understand. You may look healthy, but you peter out before the end of the day. Although treatments help a lot of people a lot of the time, they don't help everybody all of the time. If you've done your best to organize your day for maximum efficiency and you're still fatigued, you must help your spouse to understand that you can no longer do your share of duties. You may think about redefining your chores.
When you're in a new attack, for one or two weeks or maybe as long as six, you may need your mate to help take over shopping, cooking, mowing the lawn, washing the car, cleaning up and caring for the children. In temporary situations like this, it is ideal for the welfare of you and your marriage to hire extra help.
As a partner, your involvement with multiple sclerosis (MS) begins with the disclosure that your loved one has it. The disclosure may be either at the same time the patient finds out or later, when the person with MS chooses to tell you.
When you learn of the diagnosis at the same time as your loved one, you will most likely experience the same emotional phases—shock, denial, anger and eventual acceptance. It is unlikely that two people will enter each phase at the same time, but often one will pull the other through. One person may feel shock longer; the other may get angrier faster. There is no timetable to follow; it will just have to take its natural course.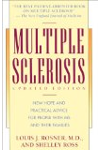 More About this Book
Multiple Sclerosis
Too often, multiple sclerosis is thought of only as "the crippler of young adults." But in fact, 75 percent of all people with MS will never need a wheelchair. In Multiple Sclerosis, Dr. Louis J....
Multiple sclerosis can affect sexuality both directly and indirectly. Women may experience pain, numbness or decreased lubrication, while men may suffer erectile dysfunction. Psychological factors may also decrease desire. Physicians, social workers and other health professionals at the Corinne Goldsmith Dickinson Center for Multiple Sclerosis can help with these problems. Although you may be embarrassed to broach the topic, it is important to discuss your symptoms with our staff.
Continue Learning about Living With Multiple Sclerosis

Living with multiple sclerosis (MS) presents its own specific, but manageable set of challenges. Important keys to daily living with MS include finding or building a support group, self-monitoring your multiple sclerosis symptoms ...
and following your doctor's recommendations for managing MS pain. Find out more about living with multiple sclerosis from our experts.
More