The time spent with your doctor during a consultation for multiple sclerosis (MS) may be brief, so make the most of it. Here's how to make the most out of your visit:
Clearly describe problems you are having without embarrassment. Be specific. If you have pain, try to describe how intense it is on a scale of 1 to 10.
Bring a copy of your symptom diary for him to include in your file and prepare questions you want to ask.
Remind doctors of previous decisions, lab results, or symptoms. Most doctors can't remember everything about you from visit to visit. If your doctor had you get lab tests before your visit, for example, ask about the results if the doctor forgets to mention them.
If you want to ask about an article you read or a report you heard on television, present as much information about it as possible. Bring a copy of the article. Make notes on the program, channel, and time of the report. With the volume of medical information available today, it is virtually impossible to know everything that is printed or said about MS.
Share with your doctor important events in your personal, professional, and social life. Events in your life may affect your MS; they may also affect how you take care of yourself. Learn to share this information and talk honestly about your emotions. For communication to be effective, both you and your doctor must be good listeners.
Ask for an explanation, in language you can understand. Always ask your doctor to explain anything about your MS or your treatment program that you don't understand. Try repeating what you think you heard. If your physician adjusts your treatment program, and you don't know why, find out the reasons for the change. When medication is prescribed, ask your doctor when is the best time to take the drug and about possible side effects and what you should do if they occur. Ask your doctor for written information about your specific type of MS.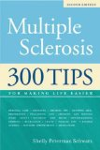 Continue Learning about Living With Multiple Sclerosis