If you have multiple sclerosis (MS), here are some clothing shopping tips:
To save time and energy, immediately ask directions when entering an unfamiliar department store. Learn where the escalators, elevators, and restrooms are located.
Find a fitting room with a chair and sit to try on clothes. If no chair is available, ask the sales person to get one. If trying on clothes at a store is too difficult, because of your energy level or physical disabilities, ask if you may take the clothes home "on approval," and try them on at your leisure.
Instead of carrying your purchases around with you, have them mailed or delivered to your home. If going out to shop is not convenient, shop by mail. Visit the library and look through their many catalogs and mail-order brochures. Catalogs often contain measurement charts for your reference. Some bookstores have specialty catalogs for sale. Many companies have toll-free numbers or websites for ordering merchandise.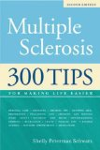 Continue Learning about Living With Multiple Sclerosis