Get tough. Strengthen your will. And, possibly, get a lawyer. But first, get in a mind-set that no one, no disease, or no discriminatory attitude is going to stand in your way. Focus on one career goal at a time and go for it. If you have many goals, make a list of your priorities. Then, starting with number one, list all the things that could make you more successful in achieving that goal.First and foremost, there must be a motivation. Not everyone has the same ambitions. But whatever you're going to be, you still have the right to work, maintain your dignity, and not give up. This must be the generation of trailblazers. It's your obligation to try to stay in the work force and get those statistics up.With a multiple sclerosis (MS) diagnosis you're likely to take a hard look at your career. It's sort of what happens to people when they turn fifty and take stock of what their lives mean. The only difference is that you may be twenty-eight, and it's a little early for such lofty reflection. Still, you may realize that you've been stuck in a dead-end job for the past few years anyway, and if you've ever thought of taking a risk, you should do it now in the event that you're not healthy enough to take it later. Or you may decide to finish that advanced degree. Often, with age on your side, and in an early stage, an MS diagnosis may spur you on to actually do things you might never have done otherwise. The person with a slightly more advanced form of MS may go through the same emotional reaction but may not choose to act so impulsively. How do you know how to plan your life and when to act on those plans? The unpredictability factor makes this really tough. Talk to a few friends, one devil-may-care, another conservative. Listen to different viewpoints and process the advice given. Finally, look at the benefits package where you're working. What will happen to your insurance, your pension? Do they offer a disability package? You don't have to throw your dreams out the window, but if you're the sole supporter of a family, for instance, you might opt for the more conservative choice. But be creative. You might decide to stay with the company and start a new business venture on the side.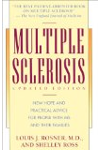 More About this Book
Multiple Sclerosis
Too often, multiple sclerosis is thought of only as "the crippler of young adults." But in fact, 75 percent of all people with MS will never need a wheelchair. In Multiple Sclerosis, Dr. Louis J....
Continue Learning about Living With Multiple Sclerosis