Emotional problems, such as depression and anxiety, are very common in people with multiple sclerosis (MS) and can negatively impact their health and well-being. More than 50 percent of people with MS experience one of these mood changes at some point during their illness, according to Multiple Sclerosis Foundation (MSF) Medical Advisor Ben W. Thrower, MD.
Emotional issues are common in people with multiple sclerosis (MS). These include serious mental illnesses, such as anxiety, depression and bipolar disorder, but they can also consist of frequent mood swings, or volatile moods, frequently called "emotional incontinence" by those with MS.
The multiple sclerosis (MS) patient can experience emotional disturbances that may include euphoria, an exaggerated cheerfulness or feeling of well-being; emotional lability, a tendency to get upset or excited easily; and inappropriate or excessive laughing or crying triggered by trivial things or nothing at all. Since mental changes cannot be observed in controlled studies, the clear picture seen with some other MS symptoms is virtually impossible to obtain. Most researchers admit that there is no way of determining whether depression, for example, is actually caused by MS or is the patient's reaction to coping with the disease.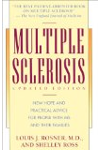 More About this Book
Multiple Sclerosis
Too often, multiple sclerosis is thought of only as "the crippler of young adults." But in fact, 75 percent of all people with MS will never need a wheelchair. In Multiple Sclerosis, Dr. Louis J....
Continue Learning about Living With Multiple Sclerosis