How do I know if I make my adult child with MS feel comfortable?
Ultimately, your adult child will let you know if you help or add to the problem. If your adult child is seeing less and less of everyone, there is a bigger problem than you. But if he or she has healthy relationships with others and seems alienated toward you, there's a good chance it's something you do that doesn't feel very comforting. It might be something you're unaware of, like a look of pity or fear in your eye. Or you might be trying too hard, joking inappropriately, or acting very clingy. If you can't figure it out, ask what it is. Your child might not even know exactly. But talk. Remind your child that you're doing the best you can, too, and that you're willing to try a little harder. If it's the only way to get your child to open up, be provocative. Listen closely, don't get defensive, and make sure you're not getting a bad rap. You might find out it's not your fault at all, that underneath it all, he or she is rebelling against the idea of feeling dependent on you. Make the necessary repairs. You'll get through this a lot easier together.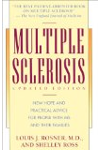 More About this Book
Multiple Sclerosis
Too often, multiple sclerosis is thought of only as "the crippler of young adults." But in fact, 75 percent of all people with MS will never need a wheelchair. In Multiple Sclerosis, Dr. Louis J....
Continue Learning about Living With Multiple Sclerosis
Living with multiple sclerosis (MS) presents its own specific, but manageable set of challenges. Important keys to daily living with MS include finding or building a support group, self-monitoring your multiple sclerosis symptoms ...
and following your doctor's recommendations for managing MS pain. Find out more about living with multiple sclerosis from our experts.
More