Irritable bowel syndrome (IBS) is a disorder of a sensitive digestive tract with symptoms of bloating, gas, constipation, diarrhea, or a change in function of the bowel. The intestines continue to absorb fat, carbohydrate and protein for energy and if eaten in excess will cause weight gain. Discomfort caused by IBS may result in decreased intake and absorption of food for some individuals causing weight loss.
The recommended medical nutrition therapy prescribed by me for IBS also is helpful for healthy weight maintenance. I recommend small frequent, moderate fat meals of whole grains, fruits, vegetables, lean meats, beans, nuts, dairy or soy foods. A journal of food intake and symptoms is also recommended to track foods that may increase IBS symptoms.
People with IBS tend to find foods that do not cause symptoms after eating. Until better control is obtained, food choices are limited. Foods containing starches like mashed potatoes, rice and oatmeal cause less distress. Unfortunately, they are high calorie and nutritionally imbalanced. I suggest finding a dietitian that is knowledgeable about the FODMAP approach. This is a targeted way to add foods back and make intake more balanced. A component of nutritional balance is consuming the correct amount of calories.
One possible reason is that those with IBS may not be absorbing as many nutrients from the foods they eat due, perhaps, to rapid transit time in the gastrointestinal tract causing symptoms like diarrhea. As a result, their body craves what it's lacking, and they end up eating more calories than needed. Keeping a food diary and avoiding common food triggers while instead focusing on wholesome, non-irritating foods may help.
You may be overweight if you have irritable bowel syndrome (IBS). Many people with IBS tend to limit fruit, vegetables and milk in their diets to avoid symptoms. This leaves the American staples of meat, cheese and every variety of white bread and potatoes. This high-calorie, low-nutrient density diet, consumed in a filling quantity, is enough to make anyone overweight, and certainly does not promote weight loss or good health.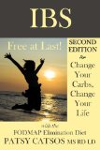 Continue Learning about Living With IBS