If you have gas and bloating from irritable bowel syndrome (IBS), the best approach is to try eliminating foods that tend to trigger these symptoms. Common offenders are beans, pretzels and bagels, milk products, carbonated beverages, raw fruits such as bananas and apples, and vegetables such as cabbage, cauliflower, and broccoli. It's also important to rule out lactose intolerance as a cause of symptoms. Most drugs, either prescription or over-the-counter, aren't very effective.
Continue Learning about Living With IBS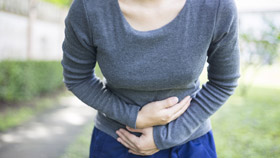 Irritable bowel syndrome (IBS) is typically a chronic disorder. Many people with IBS lead restricted lives in multiple areas: diet, social activities, energy level and sense of well-being. Identifying and avoiding triggers, gettin...
g regular exercise and psychotherapy are all helpful in managing IBS in your daily life.
More