How should I manage irritable bowel syndrome (IBS)?
Because there is no cure for irritable bowel syndrome (IBS), treatment aims to control individual symptoms. As a result, the management of IBS requires a great amount of understanding between doctor and patient. Patients need to educate themselves about IBS and receive adequate information from their physicians so they can learn to manage the syndrome and regain control over their lives. You can play an active role in managing your own condition. Begin with these measures:

Eliminate triggers. What we know is that something has disrupted the automatic functioning of the bowel in IBS patients. The trigger could be emotional stress, for example, or it could be a dietary irritant. One place to start the search is with something consumed -- foods, beverages, or drugs, for example. Food allergy testing has not proved to be useful in identifying triggers.

Eat fiber. Adding fiber to the diet may help to increase the stool's bulk and speed its movement through the GI tract. A high-fiber diet doesn't always improve bowel symptoms, and for a few people, it may increase bloating or gas. But many clinical trials have shown that it does seem to relieve constipation and may ease abdominal pain, and sometimes it can even improve diarrhea. You can increase the fiber in your diet by eating whole grains, bran cereals, and plenty of fresh fruits and vegetables. Alternatively, a fiber supplement containing psyllium or methylcellulose, which are available in many products found in supermarkets or drugstores, can be highly effective. For some people, these measures may be all that are needed to reduce symptoms and calm the belly.

Try heat. For people who experience IBS intermittently, a home heating pad can be a simple and inexpensive way of soothing abdominal pain. Heat can help relax cramping muscles. Similarly, drinking a warm, noncaffeinated tea such as chamomile may help reduce discomfort.
Continue Learning about Living With IBS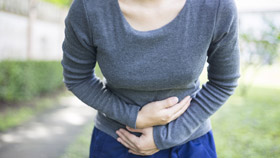 Irritable bowel syndrome (IBS) is typically a chronic disorder. Many people with IBS lead restricted lives in multiple areas: diet, social activities, energy level and sense of well-being. Identifying and avoiding triggers, gettin...
g regular exercise and psychotherapy are all helpful in managing IBS in your daily life.
More