Another major issue for men with diabetes may be lack of sexual desire. Obviously, there are a lot of things that interfere with sexual desire, including the stresses of dealing with a medical problem, but sometimes a lack of desire results from a low testosterone level. Testosterone is the main male sex hormone.
A large percentage of men -- as many as 25 percent in some studies -- have testosterone levels that fall below the normal range, but a low blood level doesn't always mean that there is a problem. Many men have what appear to be low blood levels, but biologically the amount of testosterone in their systems is perfectly adequate.
It's important to look not only at blood tests but also at whether the man has symptoms of low testosterone, such as a diminished sex drive, reduced muscle mass and stamina, depression, or irritability. Only about half of men with low testosterone levels report any symptoms, and the symptoms are not specific enough to be sure that the low testosterone causes the problem.
Unless the blood level is very low, diagnosing a testosterone problem requires a careful evaluation by the doctor to exclude other causes of the man's symptoms. As you recall, type 1 diabetes can be associated with other autoimmune problems, including damage to the testes by the immune system resulting in a reduced testosterone level. Recent evidence suggests that men with type 2 diabetes may also be at higher risk of low testosterone levels.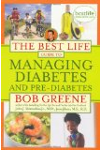 Continue Learning about Living with Diabetes