Managing your diabetes takes work: diet, exercise, determination. To help motivate you to do that work, come up with a reward, a prize you can keep your eye on. Maybe it's a vacation for you and your family; a pair of earrings; a special day trip for you and your child.
Next, tell your family and friends about your goal. Explain why it's important to you, and they just may help you stick to your plan.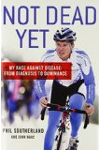 The following are tips for leading a healthy life with diabetes:
Understand that high blood glucose levels can cause serious complications.
Create a healthcare team, consisting of a knowledgeable diabetes care provider, a dietitian, a diabetes educator, doctors and other specialists.
Learn all you can about diabetes: read, ask lots of questions and attend diabetes education programs.
Keep up-to-date on diabetes research and equipment. Obtain the supplies you need to care for your diabetes.
Know yourself. Investigate whether fatigue, mood swings or other problems are related to your blood glucose levels.
Continue Learning about Living with Diabetes