So often in my life, when I'm working toward achieving a goal and getting hung up, I write about what I am doing and the problem I am facing. This small act helps me clarify what I need to do to get from point A to point B. Write down your thoughts and experiences in a journal. Track your progress. If you're getting stuck on a particular concept or exercise, write about it. What is it that you don't understand? Where are you getting stuck? The act of writing will help you see clearly where you are going wrong. It will also help you see what you are doing right and how far you've come since beginning to take action.

Write down how many hours (or minutes) of a particularly painful activity you can do before pain sets in. Write down how many repetitions of an exercise could be completed before you became fatigued. Check your progress in a couple weeks. Can you perform the activity longer before you feel pain? Can you do more repetitions before you experience fatigue? Have you learned a technique that eliminates your pain? Have you uncovered a habit that contributes to your pain?

All of these are great places to begin when tracking your progress. If you did something new that really hurt, then write it down. Figure out why it hurt. Make the necessary adjustments and see if those helped. On the other hand, if you found something that really helped, then write this down as well. It will be valuable information for you to implement later if you hit a plateau.

Create and write down two short-term goals like the following examples: "I will perform my exercises using correct form five times a day for the next week"; "I will set up 10 reminders at work, at home, and in the car to help me change my habits during the next week"; "In the next four days, I will identify 10 circumstances during which I notice my arms excessively rotate inward." Long-term goals should build on your short-term goals, like the following examples: "I will increase my exercise repetitions, using correct form, by 10 repetitions over the next four weeks," or "I will increase my exercise routine to include two strengthening exercises within three weeks."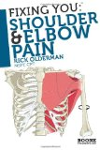 Continue Learning about Living With Chronic Pain