If you're struggling with the psychological fallout from your experiences with cancer, make the effort to share your thoughts and feelings with your partner. Let them in on the things that are making you stressed or upset, the things that are making you scared and self-conscious and, most of all, the things you need from them in order to get through this.

If you're the romantic partner of someone struggling with cancer, make the effort to be open as well. Share the emotions you experienced -- and have since experienced -- when learning about your partner's diagnosis. Share the uncertainty you've surely felt at figuring out the best way to be there for them. Be honest if you've felt distressed by the way your partner has seemed to pull back from you. Be honest about what you need from them.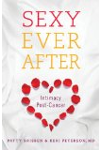 More About this Book
Sexy Ever After: Intimacy Post-Cancer
Recent studies show that 40-100 percent of men and women who have been treated for cancer have experienced some level of sexual dysfunction. Sexy Ever After: Intimacy Post-Cancer will help you...
A spouse or partner can be a primary source of support to a cancer survivor. However, if communication begins to break down, it can be stressful and result in low levels of support for both. While the cancer journey can be emotionally challenging for survivors, it can also be hard on loved ones. In some cases, a partner may experience more emotional distress than the survivor.
Both survivors and their partners may have strong emotions such as fear, anger, and guilt. Stress is also common. A decline in the physical or emotional status of either may create a "cycle of distress" for the couple. If this happens, one person's distress also affects the other. High levels of emotional distress can strain the relationship. Good communication may be the most effective strategy for breaking this cycle. It may also improve the quality of life for both.
Good communication skills can help survivors and their partners to:
Receive and offer emotional support
Get help making decisions
Share advice and encouragement
Learn new ways of handling stressful situations
Clarify misunderstandings
Learn new coping strategies
Plan for the future, such as family, employment, and financial decisions
Important issues that partners may need to discuss together include:
Ways to solve problems with changing roles and responsibilities in the relationship
Instructions and preferences for decisions about health care and financial matters
Concerns about changes to sexual relations and expressions of intimacy
Challenges adjusting to the cancer experience
How to maintain the quality of the relationship
The cancer experience can be a time that enriches and strengthens the relationship. A partner can play a large role in shaping the emotional experience of the survivor to the experiences of cancer and life after treatment. Research shows that survivors who feel they have support from their partners are more likely to focus on the positive aspects of their cancer journey. This can improve their quality of life.
Continue Learning about Living With Cancer