If you didn't take precautionary action for preserving your fertility before cancer treatment, you still have options.
Ladies: If your ovaries are no longer functioning, you can try egg or embryo donation. If your uterus is the problem, you can find a surrogate. There are even various forms of surrogacy (an arrangement in which a woman carries and delivers a child for another person). In cases of traditional surrogacy, the surrogate may be the child's genetic mother, and the child may be conceived via artificial insemination using fresh or frozen sperm, IUI (intrauterine insemination), or ICI (intracervical insemination). In cases of gestational surrogacy, you may carry the pregnancy to delivery after having an embryo transferred to your uterus.
Men: If you're experiencing erectile dysfunction, it may only be temporary. But, in the meantime, if you'd rather not wait and see, you can try drug therapy (something like Viagra); surgery (penile implant surgery or vascular surgery); or even a penis pump.
In the case of retrograde ejaculation, however, drugs may reverse it, but it's usually permanent.
Adopt: While just as pricey as most fertility treatments -- if not more so -- adoption is certainly less invasive. In fact, adoption is a fantastic option for those who have exhausted all scientific possibilities, and who still hope to experience parenthood, or complete their family. Not only that, but adoption provides the birth mother with the peace of mind that her child will be raised within a safe and stable family environment, and provides the adoptee with stability he or she needs.
Be Optimistic: The younger you are when you receive fertility-busting treatments, the greater chance there is that your fertility will return. Even chemopause (premature menopause brought on by chemotherapy) can be temporary.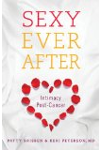 More About this Book
Sexy Ever After: Intimacy Post-Cancer
Recent studies show that 40-100 percent of men and women who have been treated for cancer have experienced some level of sexual dysfunction. Sexy Ever After: Intimacy Post-Cancer will help you...
Continue Learning about Living With Cancer