Of course, one of the biggest roadblocks to a healthy sex life after cancer is plain old lack of desire. Libido is a complex thing, and the sexual response cycle explains why. What we will tell you now is that libido can be affected by so many things. Hormonal therapy and chemotherapy can cause low libido. But the issue could very well be psychological, too. Your sense of sexual identity may have been compromised, or your body image damaged, due to treatment symptoms like hair loss, infertility, or disfigurement. Or maybe… just maybe… you're feeling like crap.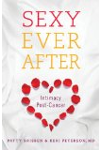 More About this Book
Sexy Ever After: Intimacy Post-Cancer
Recent studies show that 40-100 percent of men and women who have been treated for cancer have experienced some level of sexual dysfunction. Sexy Ever After: Intimacy Post-Cancer will help you...
Continue Learning about Living With Cancer