Most survivors can overcome mild, moderate and even severe fatigue when patients openly communicate with family and caregivers and are proactive about their symptoms. Some simple solutions include sleep hygiene, energy conservation and exercise.
Simple, easy techniques and habits will help patients practice good sleep hygiene—without medication. These include:
Turning off the TV, cell phone and computer off one hour before going to bed
Making a list of the next day's to dos before going to bed
Keeping a daily routine, such as getting up at the same time every day and going to bed at the same time every night
Avoiding looking at the clock
For patients with low-to-moderate fatigue, minimizing energy expenditure often helps keep energy levels at a consistent level. According to the National Comprehensive Cancer Network, some tips for managing and conserving energy levels are:
Planning and organizing - Plan tasks, errands, meals and exercise for the whole week. This makes the weeks less stressful. And if you're too tired to do a list of five things, you can do them sporadically throughout the week.
Pacing - Don't do all tasks, errands and planning in one day; instead, break it up into brief periods of time several days a week.
Positioning - Do things that require long periods of standing when energy levels are feeling good; do the cooking standing up and do the bills sitting down.
Prioritizing - Does it really matter if your floor is clean? Assess what chores and weekly needs are truly important and necessary for adequate daily living.
Lastly, even if it's the last thing a person wants to do, a good dose of physical activity does the mind and body wonders. Take a short walk, get out in the garden, take a yoga class—no matter what activity it is, exercise is proven to reduce anxiety, promote healthy sleep patterns and an overall sense of well-being.
The following are some tips for managing fatigue caused by cancer:
Eat Well: We know. You may be experiencing a loss of appetite. But when else are you going to have people urging you to eat more? Of course, we're not suggesting you load up on cupcakes, milkshakes and Peppermint Patties (though feel free to indulge, in moderation). Rather, consider what your body may be lacking.
Exercise Regularly: Your energy is low. You're feeling weak. Upping your speed on the treadmill is probably the last thing you feel like doing. But if you push yourself to remain active—all while listening to your body, so as not to push yourself too hard—your energy levels will reap the benefits. Consider workouts that won't be too high-impact. Do the alternate poses on your yoga DVDs. Nix that fast-paced Zumba class in favor of the more sensuous belly dancing (we assure you: it'll still make you sweat, and your partner may be interested in a private showing). Take a brisk walk. Or pair up with your partner and try something that will raise both your heart rates, like a salsa or tango class. Not only will exercise boost your energy, but it will also cause a rush of endorphins, which will have the happy side effect of a racing libido.
Get Plenty of Sleep: Right. Insomnia is common when you have cancer. But you can improve your odds. Close the blinds to block out disturbing light sources. Adjust the temperature in the room so that you don't wake up boiling. Make sure your bedding is clean, and the bed freshly made, because a newly made bed feels especially delicious. Throw on some soothing music if you think it will help, or beg for an erotic back rub. And you know what else can help you sleep well? A rousing round of vigorous sex. (Yes. We're telling you that more sleep leads to more sex, and that more sex leads to more sleep. Isn't that an endless cycle you'd like to hop in on?)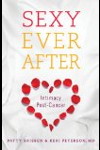 More About this Book
Sexy Ever After: Intimacy Post-Cancer
Recent studies show that 40-100 percent of men and women who have been treated for cancer have experienced some level of sexual dysfunction. Sexy Ever After: Intimacy Post-Cancer will help you reinvigorate your sex life after a cancer diagnosis and/or treatment by helping you redefine sex. Finally, the millions of men and women have been searching for answers and information about their post-cancer love lives (as well as their partners) have a resource. "Sexy Ever After: Intimacy Post-Cancer" will help you reinvigorate your sex life after a cancer diagnosis and/or treatment by helping you redefine sex. ABOUT THE AUTHORS:Patty Brisben is the CEO and founder of Pure Romance™, the nation's fastest-growing in-home direct sales company specializing in relationship enhancement products, intimacy education, and sexual health awareness. With over twenty-five years of experience working with women, she now leads tens of thousands of consultants who are touching the lives of women and couples nationwide. Through Pure Romance's Sexual Health Education Department, Patty assists women in recapturing their sensual and sexual selves following cancer diagnosis and treatment. In 2006 Patty created the Patty Brisben Foundation for Women's Sexual Health, which serves to strengthen, support, and enhance health services provided for women through education, research, and community outreach. Her notable work has put her in the national spotlight, with appearances on "The View" and CNN amongst others and profiles in leading business publications, including Forbes and Entrepreneur.Dr. Keri Peterson obtained her bachelor degree from Cornell University and received her medical degree from Mount Sinai School of Medicine. She completed post-graduate training in Internal Medicine at Mount Sinai Medical Center in New York City and is board certified in Internal Medicine. Dr. Peterson has been in private practice with a prominent medical group on the Upper East Side of Manhattan since 1999. She holds appointments at Lenox Hill Hospital and Mount Sinai Medical Center. She is a member of the American College of Physicians and the American Medical Association. With a demonstrated commitment to the advancement of medicine, Dr. Peterson has several publications in leading medical and scientific journals and has presented at distinguished medical symposiums. Dr. Peterson is a medical contributor and columnist for Women's Health Magazine and also appears frequently on the TODAY Show amongst others.
Continue Learning about Living With Cancer