Here are some suggestions to help improve your self-esteem after cancer:
Develop a Mantra: Okay. This sounds woo-woo even to us. But it can work.
Here's the thing. You've just returned from a war. A war on cancer. And your return requires an adjustment period... time in which you can relax and celebrate the fact that you've whipped cancer in the butt. But after that time has passed, you need to return to life. You need to allow cancer to stop holding you back. Sex is a big part of that. If you haven't regained your sexual self, the cancer has won. Your sex life has to be a priority right now, as does your self-esteem.
That's why we recommend positive mantras. Just remember the little train that could, telling itself, "I think I can… I think I can… I think I can…" The more you tell yourself "I deserve to live life fully" or "I am pretty darn awesome" or "I have earned at least five earth-shattering orgasms this week," the more you'll start to believe it.
Throw Yourself into the Things You Love and Care About: Sometimes, nothing peps us up more than being productive. Those daily accomplishments -- both big and small -- make us giddy. And sometimes, we're even inspired to do a happy dance to our latest guilty pleasure song. Talk about a mood booster! What do you love to do? What do you care about the most? Is it work? Throw yourself into it. Is it spending time with family? Throw yourself into that. Is it an active sex life? Throw yourself into your partner's arms. They've been waiting for you.
Try Therapy: We're huge believers in the powers of talk therapy and, in some cases, talk therapy supplemented with behavioral medication. Why? Because it's always helpful to have an objective listener, someone who can see the patterns in your thinking and behavior, or who can call you out on your unproductive attitude. If you're having problems in or out of the bedroom, consider seeing a therapist by yourself, or a couples counselor with your partner, or a sex therapist, or some combination of all three.
And consider joining a support group so that you can hear the stories of those who are going through what you're going through.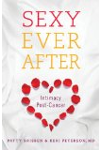 More About this Book
Sexy Ever After: Intimacy Post-Cancer
Recent studies show that 40-100 percent of men and women who have been treated for cancer have experienced some level of sexual dysfunction. Sexy Ever After: Intimacy Post-Cancer will help you...
Continue Learning about Living With Cancer