When someone is presented with a cancer diagnosis, they often run through a gamut of conflicting feelings. One feeling is the fear of death. A cancer diagnosis can -- understandably -- feel like a death sentence, no matter what the survival rate. Another feeling is frustration, stemming from the belief that they are losing control… over both their health and their life. Finally, depending upon the type of cancer, your partner may feel betrayed by his or her body, and may even feel that they have lost their femininity (especially common with breast cancer) or masculinity (testicular cancer, penile cancer, etc.).

Knowing all of this, you should seek to control your own anger, frustration, and sadness, have patience, and just try to be there for your partner.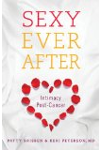 More About this Book
Sexy Ever After: Intimacy Post-Cancer
Recent studies show that 40-100 percent of men and women who have been treated for cancer have experienced some level of sexual dysfunction. Sexy Ever After: Intimacy Post-Cancer will help you...
Continue Learning about Living With Cancer